Mumbai: Bollywood's controversy queen Kangana Ranaut has been on a slamming spree against those who have been showing support to the farmers' protest. The latest to face Kangana's ire was cricketer Rohit Sharma who tweeted about the farmers.
Also read: Kangana calls Taapsee Pannu a 'B grade actor' and 'burden'
In her tweet, Kangana called all the cricketers 'dhobi ka kutta', "Why all these cricketers sounding like dhobi ka kutta na ghar ka na ghat ka, why would farmers be against laws which are revolutionary for their well-being. These are terrorists who are causing ruckus… say that na itna darr lagta hai?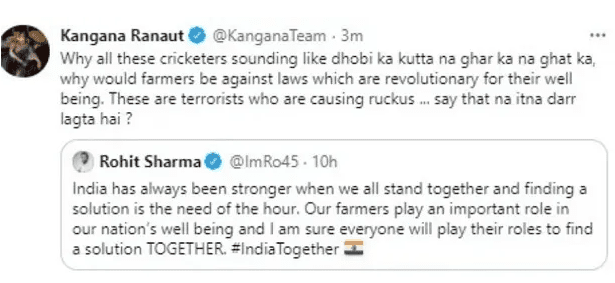 Rohit Sharma is not the only one to come in Kangana's line of fire on Twitter. The Manikarnika actor also took singer Rihanna and climate activist Greta Thunberg for their tweets on the ongoing farmers' agitations in India.
Also read: Participating in protests, demonstrations will cost you your chance of a government job, passports, loan grants: Reports
Ranaut lambasted Rihanna and tweeted, "No one is talking about it because they are not farmers they are terrorists who are trying to divide India, so that China can take over our vulnerable broken nation and make it a Chinese colony much like the USA… Sit down you fool, we are not selling our nation like you dummies."