Mumbai: The Income Tax (IT) Department continued the survey operation at Bollywood actor Sonu Sood's residence in Mumbai today. On the second day, IT department officials were seen around the premises of Sonu Sood. 
While the officials continued the search operation at Sonu Sood's residence, his fans followed a new trend. Fans followers of the actor have begun trending #IstandWithSonuSood on Twitter.
The actor's fans started showcasing their support through the social media platform. Many have showcased their support calling the actor a 'true hero.'
Sources in the Income Tax Department (IT) stated, "A recent deal between Sonu Sood's company and a Lucknow-based real estate firm is under the scanner. The survey operation has been initiated on the allegations of tax evasion on this deal," 
However, the actor's fans supported him with their opinions posted through social media platforms.
Let's have a look at some of the reactions from his fans:
A fan wrote, "#IStandWithSonuSood you are the youth Icon. We are with you sir (sic)."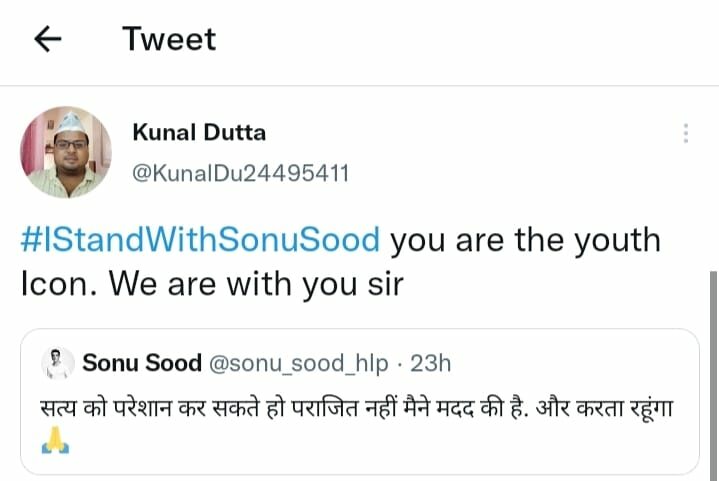 Another tweet reads, "There is nothing more beautiful than someone who goes out of their way to make life beautiful for others. @soodfoundation #SonuSood #SonuSoodRealHero #IstandWithSonuSood (sic)."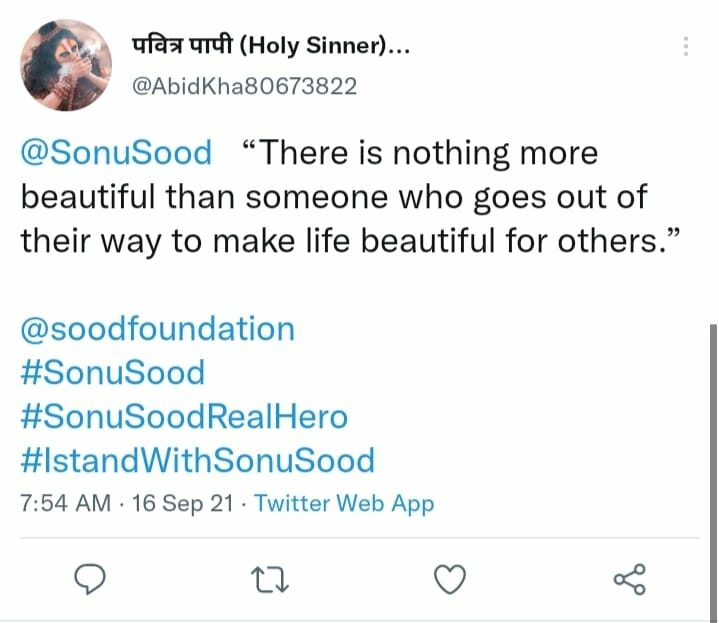 A fan wrote," #SonuSood has helped many people since lockdown happened , he is a true hero in real life . Wish we had many more like him . #istandwithsonusood #SonuSoodRealHero (sic)", calling him a real-life hero.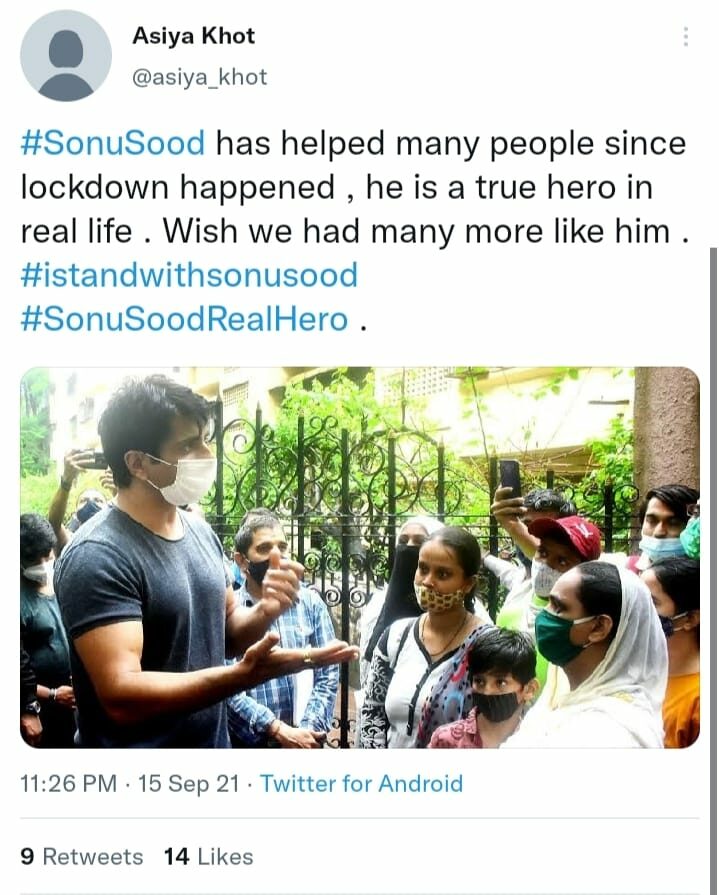 The support continued as another fan wrote, "#IstandWithSonuSood really very very sad.. we have proved again that people who help people who care people who gave should not be respected shame on us.. I'm with him no matter what (sic)."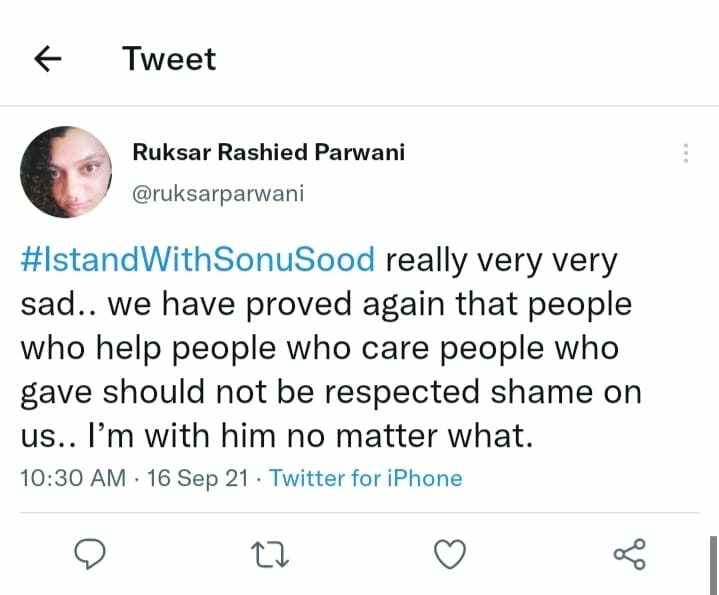 Commenting on the search operation conducted by the IT department, Aam Aadmi Party (AAP) Spokesperson Raghav Chadha stated that this is nothing but a "witch hunt" by an insecure government toward a great philanthropist.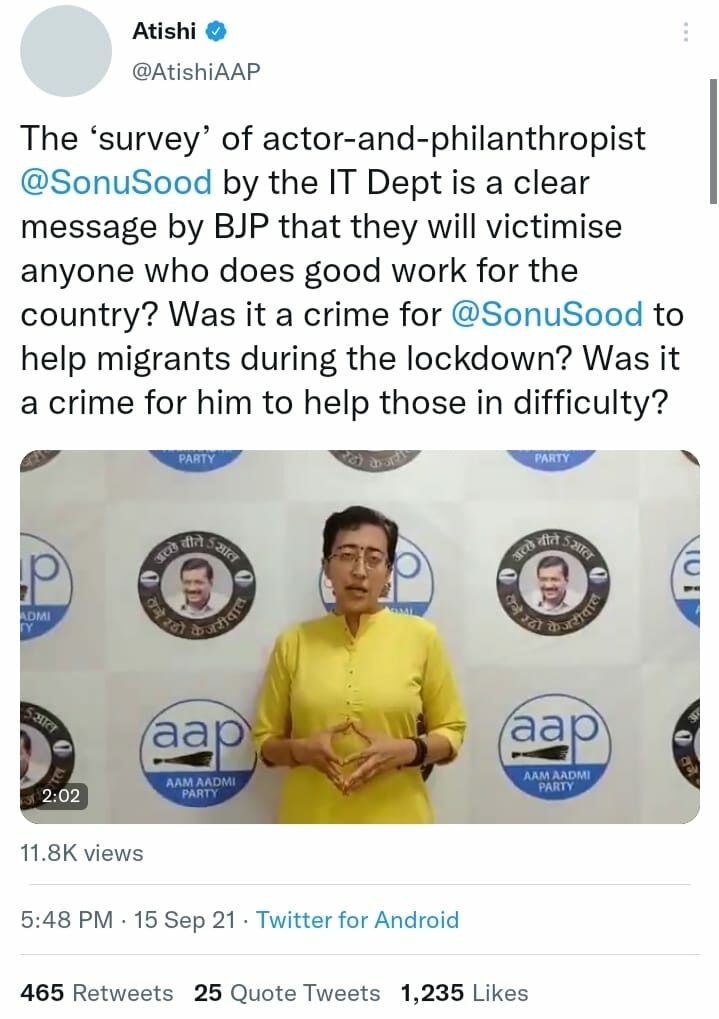 Stating the same issue, AAP MLA Atishi questioned whether serving those in need was a crime?
Atishi tweeted, "The 'survey' of actor-and-philanthropist @SonuSood by the IT Dept is a clear message by BJP that they will victimise anyone who does good work for the country? Was it a crime for @SonuSood to help migrants during the lockdown? Was it a crime for him to help those in difficulty?"
Delhi Chief Minister Arvind Kejriwal had lately announced actor Sonu Sood as the brand ambassador for his government's mentorship program for school students.