Guwahati: Jorhat police arrested two individuals in connection with fake Indian currency making on Wednesday. A post shared on Twitter by Jorhat police notified netizens about the news.
The two accused were identified as Md Shariful Hussain and Md Yashin Hussain. They have been arrested for printing, controlling and circulating fake notes. Md Shariful Hussain is a resident of Jorhat, while Md Yashin Hussain is a resident of Golaghat.
The police authorities seized 100 rupees value FICNs (Fake Indian Currency Notes) with a cumulative value of Rs 13,200 from their possession. Additionally, a computer and a printer have been seized from the accused individuals.
Also Read: "You must go through the dark. Own it": Hrithik Roshan writes a note to Aryan Khan
The tweet shared by Jorhat police read, "Md Shariful Hussain r/o Jorhat & Md Yashin Hussain r/o Golaghat are arrested in connection with printing, possession and circulation of Fake Notes. Recoveries 1.100 Rs denomination FICNs(value ₹13,200) 2. One Computer+one printer."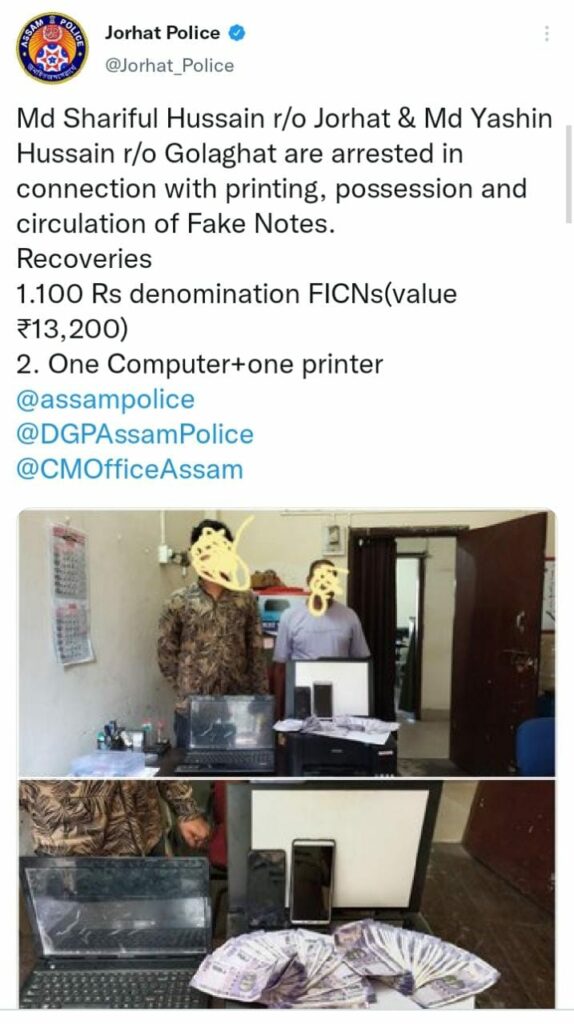 Six days ago, Nagaon police also busted a fake certificate racket while investigating a case related to a robbery. The authorities recovered over 10,000 fake certificates from the possession of those arrested under the case.