New Delhi: Soon after it became official that former student leader Kanhaiya Kumar has joined Congress, Kumar made special remarks upon the party and his decision to be a part of the Congress party.
Former president of JNU students' union Kanhaiya Kumar joined the Congress on September 28 in the presence of Rahul Gandhi. Gujarat Dalit leader and independent MLA Jignesh Mevani have additionally reached out to support the party.
Kanhaiya Kumar, former leader of Communist Party of India (CPI) after joining Congress, stated," "I am joining Congress because it's not just a party, it's an idea. It's the country's oldest and most democratic party, and I am emphasizing 'democratic'…Not just me, many think that country can't survive without Congress."
On the other hand, lawyer-activist Mevani made it clear he could not join Congress due to "technical" reasons. Clarifying in a press conference at AICC headquarters in Delhi, Mewani stated he is an independent MLA, and if he joins a party, he may not continue as an MLA. But, extending his support to Congress, Mewani said that ideologically he is with the party.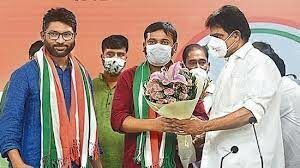 "We look ahead to serving with these young leaders, Kumar & Mevani, to beat the fascist powers ruling this nation," General Secretary of AICC, KC Venugopal, stated.
When asked about the young leader Kumar leaving the Communist Party of India (CPI), General Secretary D Raja stated, "He (Kanhaiya Kumar) has expelled himself from my party. CPI has been fighting for a caste-less, class-less society. He must be having some personal ambitions & aspirations. It shows that he has no faith in communist and working-class ideology."
Also Read: Over 100 Chinese army entered into Uttarakhand; damaged a bridge in Barahoti
"The party existed before he (Kanhaiya Kumar) joined and will succeed even after his expulsion. The party will not end with him. Our party is for selfless struggle and sacrifices. He (Kanhaiya Kumar) was not straightforward and truthful to my party," added D Raja.
Bharatiya Janata Party (BJP) has slammed Congress for inducting former JNU student Kanhaiya Kumar into the party, stating it has become an "apparent decision" for those involved in anti-India activities.
BJP spokesperson Gaurav Bhatia stated that the 'anti-India' Congress was a clear preference for individuals like Kanhaiya Kumar, whose ideology harmonizes theirs.
Bhatia further stated, "Congress is the natural first choice of any person, be it Kanhaiya Kumar or anyone else, with an anti-India ideology. The reason is obvious: today, the Congress party, its leadership and ideology are synonyms with anti-India politics."
"Therefore, Congress embraces leaders like him who are known to assist those who chant the slogan of 'Bharat tere tukde honge', and further extends help to those who support terrorist like Afzal Guru," Bhatia added.
Also Read: Afghanistan: Female Afghan judges hiding due to death threats from Taliban 'freed prisoners'
BJP national youth wing secretary Tajinder Pal Singh Bagga further crashed Congress, stating, "Kaniya Kumar had earlier spoken of breaking India. Dialogues like Bharat tere tukde honge and Afzal tere armano ko manzil taak pochayenge were heard from Kanhaiya. He further alleged that Indian army rapes and now Sonia Gandhi and Rahul Gandhi are standing with garland to welcome him in the party."
As a response to the remarks made by different parties, Kanhaiya Kumar answered, "If the Congress is saved, the aspirations of many people along with the oneness of Mahatma Gandhi, the courage of Bhagat Singh and BR Ambedkar's idea of equality will be protected."
"Congress party is like a big ship, if it's saved, I believe many people's aspirations, Mahatma Gandhi's oneness, Bhagat Singh's courage and BR Ambedkar's idea of equality will be protected too. This is why I have joined the party," Kanhaiya Kumar stated.