A bomb swept through a crowded peshawar mosque during the Friday congregation in the northwestern Pakistan city, killing at least 30 people and injuring more than 50 others.
Digital Desk:
At least 30 people were killed and 56 were injured in a massive bomb blast at a Shia mosque in the northwestern Pakistani city of Peshawar, reports said.
Reportedly, the incident happened inside a Shia mosque in Peshawar's Qissa Khwani bazaar area when attendees were offering Friday prayers.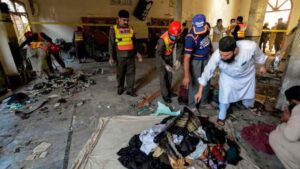 Till now, no group has taken responsibility for the blast.
According to the media manager at Lady Reading, Asim Khan, atleast 30 bodies had been brought to the hospital so far.
Meanwhile, officials have reported that the situation of ten injured people is critical.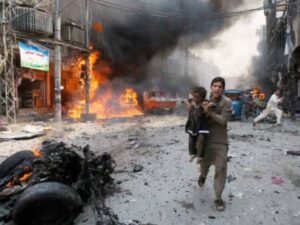 According to Peshawar Police Officer Ijaz Ahsan, two assailants attempted to enter the mosque and fired at the police officers on duty. Further, he stated that one police officer was slain and the other was severely injured.
He added that the explosion happened after the shooting incident.
Also Read: Hindu Army Officer Promoted to Lieutenant Colonel in Pakistan Army