A woman named Estefany Benitez from Bolivia reveals her horrifying experience of having a hamburger. She discovered a strange taste at the Hot Burger store in Santa Cruz de la Sierra last Sunday.
Benitez bit into a burger and chewed on the wicked remains of a decaying human finger. She revealed through a social media platform Facebook post that she chewed on the rotten finger while having her first bite of the burger.
The post was followed by pictures of the rotting finger in question, along with videos of her waiting to converse to a company representative – who later asked her for pardon.
The staffer can be heard in the footage stating: "Please tell me what you want and we will give it to you."
The staff further claimed that the burgers came at the store pre-prepared and that "nothing like this has ever occurred to us before".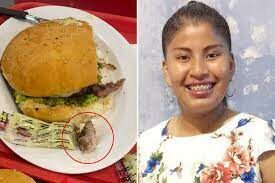 In another video posted online, Benitez added: "Here we are at the magnificent Hot Burger where a finger ended up in my burger. I'll post a photo of the finger right away."
She stated a store staff tried to close the restaurant while she was still there, but then "carried on serving customers like nothing had happened".
After sharing her story online, a company spokesperson called the matter an "unfortunate incident" and revealed that a worker had lost part of his index finger while cooking the food.
This matter was later affirmed by Edson Claure, director of the National Police's Special Crime Fighting Force.
The unexpected course of issues prompted the Vice Minister for the Defence of User and Consumer Rights to tentatively close the branch and force a penalty on the company.