GUWAHATI: A huge consignment of betel nuts, suspected to have been smuggled from Myanmar were seized from a train at the Guwahati Railway Station, late on Saturday night.
A total of 560 bags of suspected Burmese betel nuts were seized from the down Agartala-Sealdah Kanchenjunga Express by a joint team of the Government Railway Police (GRP) and Railway Protection Force (RPF).
The consignment was booked at Tripura capital Agartala and was bound to Sealdah in West Bengal.
The seized betel nuts, valued at Rs 1.5 crore, were recovered from three wagons of the train.
On 16 August this year, the GRP had seized 40 bags of suspected Burmese betel nuts at the Guwahati Railway Station.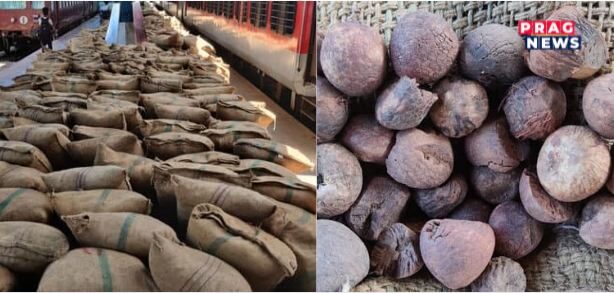 A high-level probe was ordered earlier this year in India into the smuggling of betel nuts from the neighboring countries.
These betel nuts are widely chewed across South Asia, despite the harmful health effects.
Most of these consignments are believed to be of Indonesian origin, smuggled through the India-Myanmar and India-Bangladesh borders.
In the last five years, trucks filled with the nuts have been confiscated at several locations of Assam and its neighbouring states of Mizoram and Manipur.