Sajan Prakash the last Saturday created history by becoming the first-ever Indian swimmer to qualify for the Tokyo Olympics by attaining the Olympic "A" cut. He breached the ''A'' standard time, clocking 1:56:38 seconds in the men's 200m butterfly event at the Sette Colli Trophy in Rome, Italy.
The Games ''A'' standard was set at 1:56.48 seconds and the 27-year-old Prakash finished the run 0.10 seconds faster at the FINA-accredited Olympic qualifier.
"I have worked very hard for this, and I was confident with the way I had trained," Prakash was quoted as saying in a press release.
"This was my last chance, and I knew I had to do it here. I had come so close to the qualifying mark in the previous meets, but my Coach Pradeep Sir and I planned my tapering in such a way that I would peak at these two events in Serbia and Rome."
"I am grateful to all the support I have received from SFI, SAI and the Ministry of Youth Affairs and Sports (MYAS). I believed in myself and my Coach Pradeep Kumar. Pradeep Sir was the anchor and I owe this to him. I knew I had it in me, and I am glad I achieved it", he added.
One of the best swimmers in India, Sajan surpassed his old record to set a new national record by winning the 200m butterfly in the Belgrade Open Olympic qualification in 1:56.96s last week.
His versatility is his biggest strength, and it has helped him set national records and earn medals for the nation.
When he won six gold and three silver medals at the Kerala National Games in 2015, he not only made history, but he also set national records in the 200-meter butterfly and 1500-meter freestyle events.
Prakash was the lone Indian to compete in the 2016 Rio Olympics in the 200m butterfly, finishing fourth in the heats and 28th overall.
He will compete in his second Olympics in a row, having previously represented India at the 2016 Rio Olympics.
Sajan who hails from Kerela has been in the state police since August 2019 as an inspector in the Special Armed Force. The Kerala Police congratulated Sajan on his Olympic 'A' cut and tweeted.
Sajan Prakash, Armed Police Inspector in Kerala Police, qualified for the Olympics with the A cut time of 1.56.38 in 200m butterfly in Rome today. He becomes the first Indian swimmer to represent India, in the Olympics and to qualify with an A cut. A proud moment the country, Kerela Police tweets.
Sajan admires his personal coach S Pradeep Kumar, who is also the current Indian Swimming team head coach.
Pradeep sir is like a godfather to Sajan, according to him, because he not only encourages him in athletics but also in life.
Meanwhile, Vishal Sharma caught up with Sajan' personal coach as well as Indian team coach, S Pradeep Kumar in a quick free-wheeling telephonic chat where he talked about the expectations of the Tokyo Games.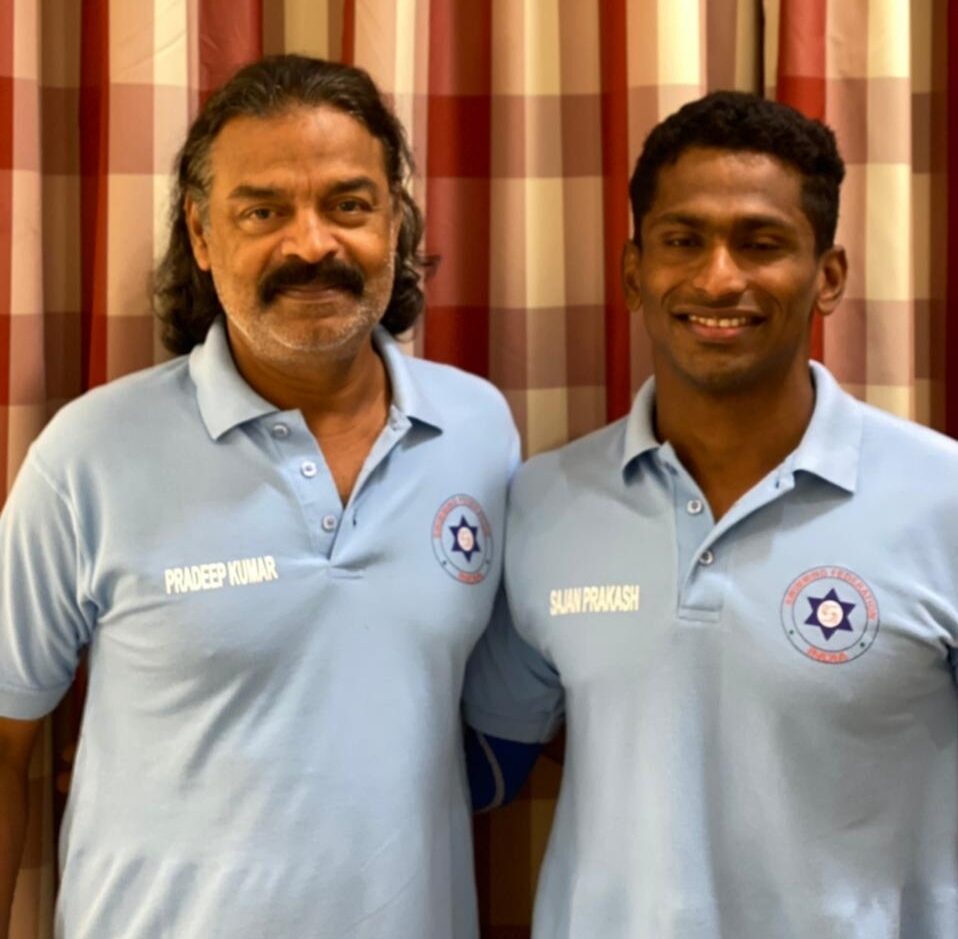 Here are the excerpts:
Vishal Sharma: How did you feel when you came to know that Sajan has achieved the Olympic "A" cut qualification?
Pradeep Kumar: I am extremely happy but same time emotional too because Sajan's hard work has got the results and it will be a benchmark for the future generation.
Vishal: What were the reaction of you and everyone else present at that time during Rome qualifications?
Kumar: I was really elated to see him achieve one of his big targets. And everyone's reaction including mine was just wow as we all were amazed to see that moment.
Vishal: According to Sajan you are not only his coach but more like a godfather to him. what would you like to say about the same?
Kumar: Actually, nothing much to say. I just did what I could for his bright future and to achieve his goal. My wife Gowri looked after him as our own son.
Vishal Sharma: A few months back in an exclusive interview I had asked Sajan about A-mark qualification and he very confidently replied that "yes I am sure I can, just need to work on small technique corrections if I get that I can do it." and he proved it recently by achieving so. What do you think now regard his performance at the Tokyo games itself?
Kumar: We go one step at a time. No big claims, first the semi-finals will be seen as our priority will be to clear the semi-final round and then watch the finals. Everyone at Sajan's level swims really very fast in the semi-finals to get in the finals by hook or by crook. It means semi-finals are most intense because we all aware of more or less the podium finishers. So, this time getting into the finals is everyone's aim.
And now following him, when Srihari Natraj has also attained Olympic "A" cut, what are your expectations from the Indian team?
Kumar: I am pretty confident about both Sajan and Srihari performances. Both will achieve the semi-finals birth and then the next step to come into finals.
Right after Sajan's remarkable achievement leading social media platform Twitter was flooded with best wishes, congratulations and many more such tweets.
Anand Mahindra, chairman of Mahindra and Mahindra, was among those who were delighted with Sajan's great performance and congratulated him.
"a new era of participation by Indians in the top rungs of the sport. And I'm particularly envious. I've been swimming since childhood but still haven't mastered the rhythm of the Butterfly stroke! Anyone with some tips to make it easier?," Mahindra tweeted.
Similarly, overjoyed with Sajan's marvellous performance and overall achievement, great Bollywood actor R Madhavan lauded the Indian ace swimmer.
"CONGRATULATIONS @swim_sajan  .. for the brilliant swim in Rome today. .. and qualifying for the 2021 OLYMPICS BY BEATING THE A CUT TIMING. We are so very thrilled and proud. Now Rock it in Japan my man. Congratulations Swimming Federation of India, Coach Pradip Kumar & ANSA," Madhavan tweeted.


With inputs from (PTI)