Guwahati: Assam Police Day is observed every year on October 1 in remembrance of IPS KR Choudhary, who took over as Assam Police Chief on October 1 in 1951. On the occasion of 71st Assam, Police Day, let's look into the contributions of real-life heroes. The history of Assam Police is a narrative filled with the most distinguished examples of empowered spirit & bravery.
The 71st Assam Police Day marked the continuous service of police personnel of the state towards a noble cause. It has a captivating story from the Ahom bygones and breakthroughs.
Also Read:Northeast United Football Club partners with Seagram for ISL season
This year to commemorate the day, several departments of Assam Police initiated blood donation camps. Bongaigaon Police, Nagaon Police, Morigaon Police, and several others requested all to participate in the Blood Donation Camp.
Hamren Police celebrates Assam Police Day by providing appreciation certificates to the police personnel for their exceptional service.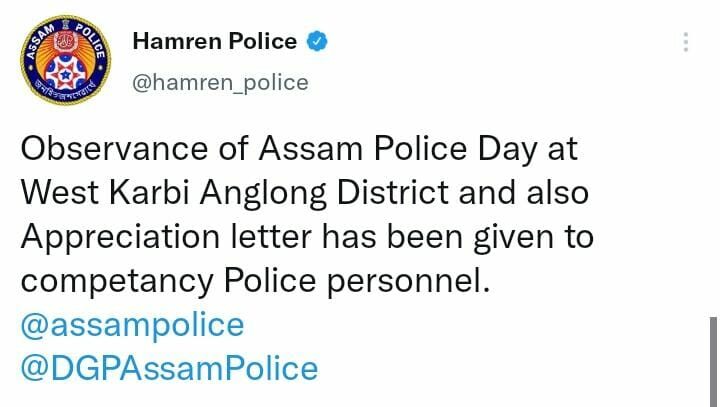 The official handle of Hamren Police tweeted, "Observance of Assam Police Day at West Karbi Anglong District and also Appreciation letter has been given to competancy Police personnel."
To mark the day, the Assam Police sent out a Tweet that read, "Warm Greetings on the occasion of #AssamPoliceDay! The history of Assam Police is a saga replete with the highest examples of unflinching courage & valour. We are committed to serving the citizens with every fiber of our being. #AssamPoliceDay."
Following greetings, Assam Police Twitter handle further notified, "Under the guidance of Hon'ble CM Shri @himantabiswa Assam Police, led by Shri Bhaskar Jyoti Mahanta, IPS, @DGPAssamPolice, is shifting the paradigm of citizen-centric policing. To serve our citizens and ensure a #CrimeFreeAssam is our solemn commitment."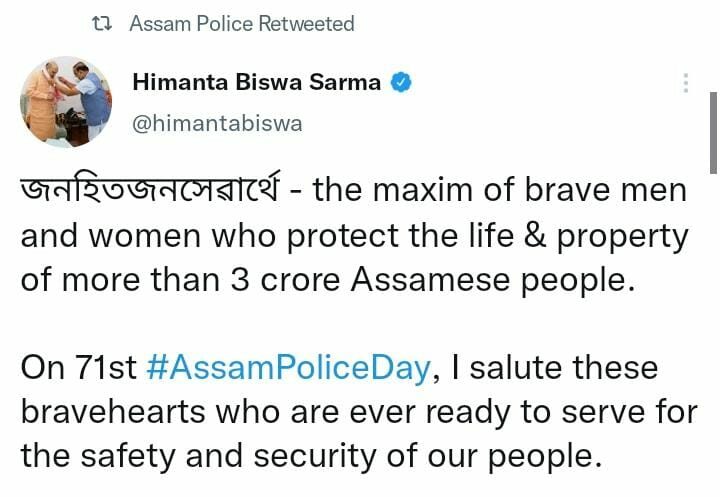 Assam chief minister Himanta Biswa Sarma took to Twitter to extend his best wishes on this day. The post read, "জনহিতজনসেৱাৰ্থে - the maxim of brave men and women who protect the life & property of more than 3 crore Assamese people. On 71st #AssamPoliceDay, I salute these brave hearts who are ever ready to serve for the safety and security of our people."
In recent times, Assam police received great appreciation for their services. From special drives to end illegal smuggling of drugs, trafficking to organize help camps for promoting employment in rural areas, Assam police received immense compliments from netizens.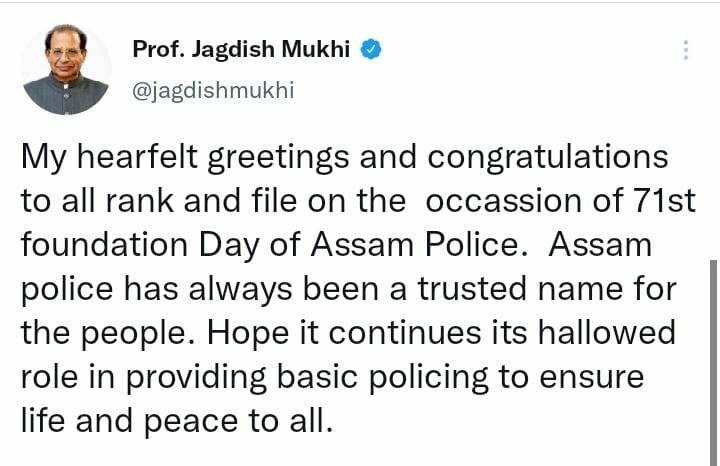 Prof. Jagdish Mukhi, Governor of Assam, took to Twitter to express his greetings on Assam Police Day. The post read, "My heartfelt greetings and congratulations to all rank and file on the occasion of 71st Foundation Day of Assam Police. Assam police have always been a trusted name for the people. Hope it continues its hallowed role in providing basic policing to ensure life and peace to all."
The Police in Assam is the outcome of a continuous development process since the Britishers dominated Assam in 1826. The Police Act of 1861 was introduced in Assam in 1862, and in the same year, the Criminal Procedure Code was further taken into operation.
Read Also: Assam's first LGBTQIA+ organization gets registered
The Assam Civil Police Committee was created in 1929 under the chairmanship of Sir Syed Mohammad Saadullah. The Assam Police has grown from strength to strength. In 1980 it had a force of 40,290, and at the end of the 20th century, it increased to 61,263.
The Assam Police has proved to be a well-organized and disciplined force. It has grown strong traditions of service and conduct till now.